Small Business IT Management
North Texas Commercial and Residential Computer Sales and Service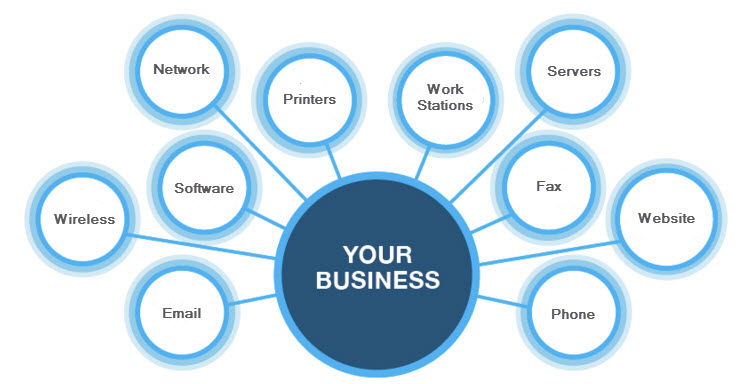 Managed IT Support
One Touch Engineering offers managed IT solutions for small to medium sized businesses that need comprehensive IT support, but don't have the time, ability or the desire to fund and manage an internal IT department.  We work closely with our clients to create and maintain an IT infrastructure that will support your business's ability to provide superior customer service.  Outsourcing your IT support allows you to establish predictable IT management costs with the flexibility to scale to your needs.
Computer Repair
Over time, computers can become slow or even inoperable due to viruses or hardware issues.  We offer diagnostic and computer repair services that will keep your machine running like new.
Wireless Networking
Setting up a wireless network for your home or business can seem like a daunting task.  We can quickly have you set up with a fast, secure and reliable wireless network.
Server Integration
One Touch Engineering will set up and manage your server, configuring applications for your specific needs. We will customize settings to match the demands of your operation.
Active Directory
Managing Active Directory yourself can be a burdensome chore full of repetitive and mundane tasks that rob you of your productive time. At One Touch Engineering, we are happy to manage this for you.
Why Outsource Your IT Management?
Expert Knowledge

Our staff has decades of experience in providing small business IT solutions. We stay up to date with industry news and trends in order to give you the best service possible.

Cost Savings

Outsourcing your IT allows you to reduce overhead by only having to pay for the level of service you need vs. having to pay all the costs associated with a dedicated IT staff.

Scalability

By outsourcing your IT management, you have the flexibility to change your level of service based on the needs of your business. IT becomes an easily manageable line item on your P&L.

Focus On Your Business

By letting One Touch Engineering manage your IT, you have the freedom to focus on your core services. No more being burdened by tech concerns or trying to solve problems outside of your expertise.
One Touch Engineering
Office: (903) 957-2973
Info@onetouchengineering.com